Recycled PET Fabric Wristbands with Bamboo Lock
Recycled PET Fabric Wristbands
More and nmore consumers are becoming increasingly environmentally conscious when considering their purchases and experiences. Get ahead of the trend with out recycled wristbands, manufactured from PET fabric with a satin finish. They're ideal if you're looking to enhance your image, whilst contributing towards the welfare of the planet.
They're a more sustainable alternative to our classic festival wristbands, ideal for a huge number of events including festivals, concerts and more. These bands come with duplicate print on both sites, with a bamboo barrel lock as standard that uses 50% less plastic compared to our other products. Like all our other products, these recycled wristbands prioritise security and cannot be removed once the lock is fastened (unless cut off). These bands are fully customisable, with the opportunity to choose the colour and style of your recycled wristband. This can be done to match an event theme or business brand.
All bands come with full colour print in a colour of your choice. The recycled wristband can also include your business name, logo, event name, slogan, or anything else which you decide to be relevant. The size of the wristbands are 350mm x 15mm, so you'll have plenty of room to get your message across to event-goers.
Material & Design
Wristband: Recycled polyethylene terephthalate (PET) recycled from plastic bottles
Lock: Plastic barrel lock with bamboo shell
Design: Full colour print on smooth satin
Key Info
Size: 350mm x 15mm
Lead Time: 2-3 weeks
Double Sided Print as standard
Min Quantity: 500 pieces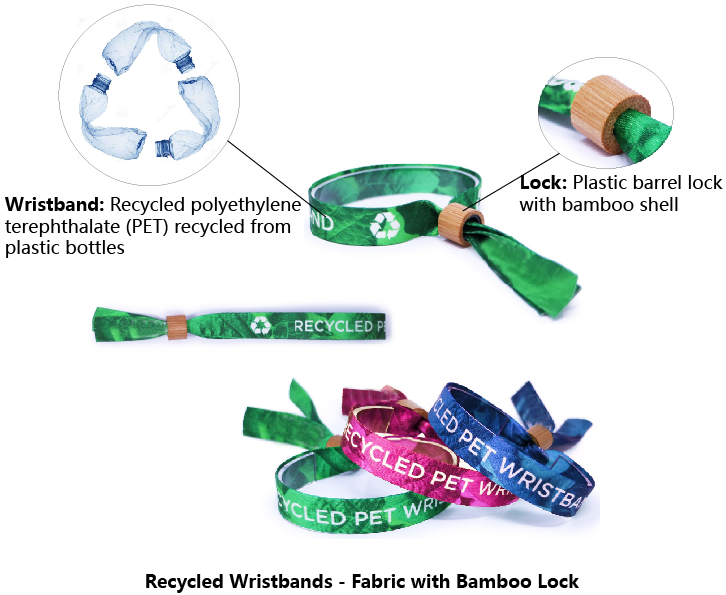 Benefits of Recycled Wristbands
*Good for the environment – whilst more and more consumers are becoming aware of the negative use of plastic, businesses are attempting to adapt their processes in order to appeal to this market, but also as part of their corporate social responsibility. Our recycled wristbands are a mutually beneficial alternative to traditional plastic wristbands.
*Strong and durable – Being good for the planet doesn't mean sacrificing on quality. Our wristbands will last the entirety of the event, but also long after should attendees wish to keep them as a souvenir of their time at your event. They'll withstand the wear and tear of your event, and although they cannot be reused, they can be recycled.
*Completely Customisable – Each event aims to be unique in order to attract the right audience. In order to stand out but also suit your theme, your wristbands need to compliment your event. We offer a multitude of customisation options, so you can create the recycled wristband that fits your vision.